Overview
You own a dusty old meteor crater. In the true entrepreneurial spirit, you've decided to construct an asteroid theme park and convert your seemingly worthless land into a sizeable fortune.
This is a Beginner scenario in the Time Twister expansion pack, and one of the first scenarios using the Prehistoric Theming incorporated within said pack.
Scenario Guide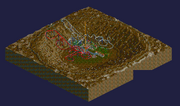 The scenario guide can be viewed here.
Attractions
Transport Rides 
Available
Researched
Gentle Rides
Available
Researched
Roller Coasters
Researched
Thrill Rides
Available
Researched
Water Rides
Available
Researched
None
Shops and Stalls
Researched
Scenery
Available
Researched
Park Entrance
Water
Other Notes
Ad blocker interference detected!
Wikia is a free-to-use site that makes money from advertising. We have a modified experience for viewers using ad blockers

Wikia is not accessible if you've made further modifications. Remove the custom ad blocker rule(s) and the page will load as expected.