Bumbly Bazaar is one of the seven Challenging Scenarios of the vanilla version of RollerCoaster Tycoon 2.
Overview
Starting with a small market bazaar, your challenge is to increase of the profit from shops and stalls by building rides and roller coasters to attract more customers.
Bumbly Bazaar is a large empty desert with only a few stalls and shops. Nearby, a small river flows through the desert, which is more than large enough for expansion. Because of the large size and no condition to fail, this is a good opportunity to try out different aspects of the game.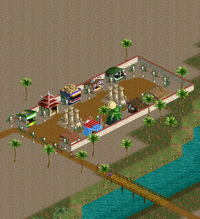 Pre-built Rides
Scenario Guide
You can read the Scenario Guide here.
Attractions
Transport Rides 
Available
Researched
Gentle Rides 
Available
Researched
Roller Coasters
Available
Researched
Thrill Rides 
Available
Researched
Water Rides
Available
Researched
Shops & Stalls
Available
Researched
Scenery
Available
Researched
Footpaths
Park Entrance
Water
Other Notes
This is the only scenario requiring the player to achieve a certain amount of profit from food and merchandise in all of the 2D RCT games.
This scenario has all 41 food stalls in the vanilla RCT2 available for research.
Ad blocker interference detected!
Wikia is a free-to-use site that makes money from advertising. We have a modified experience for viewers using ad blockers

Wikia is not accessible if you've made further modifications. Remove the custom ad blocker rule(s) and the page will load as expected.