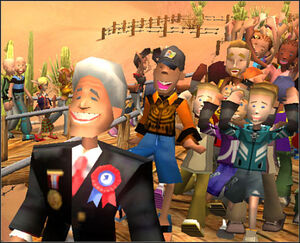 Clint Bushton is a VIP who first appeared in RollerCoaster Tycoon 3. His name is an amalgamation of U.S. Presidents William "Bill" Clinton and George H. W. Bush, and his model closely resembles Clinton.
Character Description
Clint has blue eyes, silver hair in a pompadour and tan skin. He wears a tuxedo with a red tie, a medal and a first place ribbon attached to it, grey pants and black shoes.
Monica Lewinsky Sex Scandal Reference
A Roller Coaster Tycoon 3 player seemed to uncover an Easter Egg in which Clint Bushton refers to the real life Monica Lewinsky sex scandal. In the characters thoughts, he asks "Your name is Monica...?!!".
Ad blocker interference detected!
Wikia is a free-to-use site that makes money from advertising. We have a modified experience for viewers using ad blockers

Wikia is not accessible if you've made further modifications. Remove the custom ad blocker rule(s) and the page will load as expected.