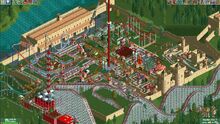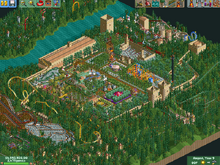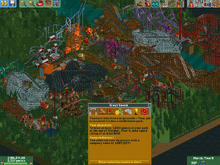 Scenario Guide
Remember:
The Scenario Guide below is only a suggested strategy for completing this scenario—it may not work for all players.
The General Scenario Guide and Hints and Tips articles may also provide helpful information in completing this scenario.
There are usually multiple strategies to successfully completing a scenario; these can be discussed in the comments below, written down in an additional section of the article or added to an existing subsection.
It's best to start with a few simple rides. Create one or two gentle rides, a few thrilling rides, and a roller coaster. You should also add two stalls and a restroom starting by May. Then, hire one or two handymen and some mechanics. It's usually a good idea to limit their movement, but remember to add the new rides as time goes by. This start can be accomplished without loaning any money.
Just before you open the park, make sure you get rid of the path around the castle and other pathways you do not readily need. This is because the guests are likely to get lost in the park and they usually do it on the pathways you do not use anyway. If you think you'll need the pathways later on, build Information Kiosks.
The method to creating a good park is:
1. Make sure you have enough and a variety of rides and stalls for the right price. A roller coaster admission price should not be higher than its excitement rating. Charging $7.00 for a roller coaster with a rating of 7.20 won't affect guests to take the roller coaster unless it is a few years old or so. But make sure you get a Cash Machine out quick, as guests would run out of money faster the higher you charge, and they'll leave the park once they're low on cash and there are no Cash Machines available.
2. Have enough staff work for you as your park expands (about 10-20 handymen and 8-15 mechanics). Usually, you need less security guards and even less entertainers, but do whatever feels right.
3. Keep expanding, even when you have to loan for it. Prioritize researching shops and stalls first to receive a Cash Machine
4. When a gentle or thrill ride fails to attract any guests, decrease the admission fee to $0.80 or replace it with a similar ride. A gentle or thrill ride charged below $0.80 would never lose popularity .
5. If you're running out of time to accomplish a task where you need to reach a certain park value by that year, demolish non-track designed gentle and thrill rides and build the same attraction again. Then, build some roller coasters quickly.
6. If you're running out of time to accomplish a task where you are to get a certain number of guests in a park, advertise heavily with every option possible with 6 weeks and cut prices of all roller coasters over $5.00 to a minimum of $5.00 or lower. Add more Cash Machines if necessary.