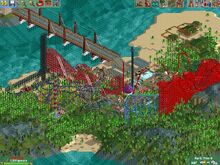 Overview
The people of Hawaii are bored of surfing and are looking for something more intense. You need to build a park with this in mind to keep the area's tourist attraction rating high.
This scenario can be difficult if you don't know what do do. If you click on a guest that has entered your park, you will notice that the guest's preferred intensity is very high (above 9). This scenario is similar to Extreme Heights and Adrenaline Heights, where you have to build intense rides.
Scenario Guide
The scenario guide can be found here.
Rides
Transport
Available
Researched
Gentle
Available
Researched
Roller Coasters
Available
Researched
Thrill Rides
Available
Researched
Water Rides
Available
Researched
Shops and Stalls
Available
Researched
Scenery
Available
Researched
N/A
Park Entrance
Water
Other Notes
The In-Game name of this scenario is called Wacky Waikiki.
This park scenario is a reference to Oahu, one of the major islands in the U.S. state of Hawaii.
Ad blocker interference detected!
Wikia is a free-to-use site that makes money from advertising. We have a modified experience for viewers using ad blockers

Wikia is not accessible if you've made further modifications. Remove the custom ad blocker rule(s) and the page will load as expected.