This article is under construction.

You can help by editing it! Relevant discussion may be available on this article's comment section below.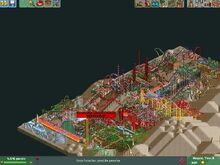 Overview
Free of financial restrictions, your challenge is to expand this desert park to attract people seeking ultimate thrills.
Extreme Heights is one of the expert scenarios available in RollerCoaster Tycoon 2. The park is set in the middle of a desert, and you are free from financial limits. The best way to describe the park is it is a more difficult version of Arid Heights from the RollerCoaster Tycoon games. It has similar victory conditions, however you are required to generate more guests in this park. The park starts off with a pre-built roller coaster and a few shops.
Pre-built Rides
Flaming Fury (Twister Roller Coaster)
Excitement: 8.01 (Very High)
Intensity: 9.65 (Very High)
Nausea: 5.56 (High)
Scenario Guide
You can read the Scenario Guide here.
Attractions
Transport Rides
Available
Researched
Gentle Rides
Available
Researched
Roller Coasters
Available
Researched
Thrill Rides 
Available
Researched
Water Rides
Available
Researched
Shops/Stalls
Available
Researched
Scenery
Available
Researched
Footpaths
Park Entrance
Water
Other Notes
In some versions of the game, this scenario is called "Vertigo", and as such appears as the last in the vanilla game. This is not to be confused with the RCT1 scenario, Vertigo Views.