Scenario Guide
Remember:
The Scenario Guide below is only a suggested strategy for completing this scenario—it may not work for all players.
The General Scenario Guide and Hints and Tips articles may also provide helpful information in completing this scenario.
There are usually multiple strategies to successfully completing a scenario; these can be discussed in the comments below, written down in an additional section of the article or added to an existing subsection.
 At the beginning, you should sell all the scenery and footpaths to get some extra cash. Build a good Wild Mouse or build the Steel Squeak pre-design. Build an Information Kiosk, Merry-Go-Round, and a good thrill ride to get you started, then raise the price to $20. Make sure the queue line for the Wild Mouse is very long. Next, you should take a small loan out and build a Wooden Roller Coaster. For the rest of the scenario, you should have no problem filling in the gaps slowly with the large variety of rides. If you do have a money problem, take out small loans, but if you build plenty of rides and eventually increase the entrance fee to around $50, you should have no problem.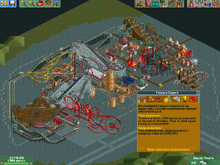 Make sure to hire lots of staff and build lots of stalls. If you receive an award, your park rating will increase.
There is plenty of space to build, but if you find yourself getting cramped, you can build out over the parking lot because you have construction rights there. Overall, this scenario is easy once you get going, and the park rating is relatively easy to keep up if you make sure your park is puke-free. If you completed the last two scenarios without a problem, then this one will be simple.