Remember:
The Scenario Guide below is only a suggested strategy for completing this scenario—it may not work for all players.
The General Scenario Guide and Hints and Tips articles may also provide helpful information in completing this scenario.
There are usually multiple strategies to successfully completing a scenario; these can be discussed in the comments below, written down in an additional section of the article or added to an existing subsection.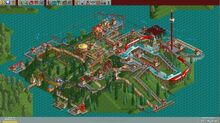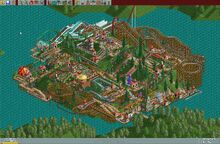 The description already tells you what to do: put gentle rides and roller coaster research to maximum and build lots of gentle rides. Why the roller coaster research? Well, you can build more gentle roller coasters like Hiccup because they will pull guests in your park. When you do this and keep advertising the park, you will have 1,200 guests in no time. One option is to charge 50¢ for each ride plus an entrance fee for extra cash. Another would be to charge only on rides, with prices set based on excitement ratings. The latter strategy may only net around $2.00 per admission, but most thrill and gentle rides are cheap enough to justify the lower rates. The main difficulty, however, will be balancing out your roller coasters to be exciting enough (at least 5.00) to attract guests to the park but not too intense (less than 6.00 is perfect) to deter people from actually riding the coasters.
Some roller coasters are a lot easier to build in a gentle style than others. The best are the Wooden Side-Friction Roller Coaster, Virginia Reel, Steel Mini Roller Coaster, Single-Rail Roller Coaster and Steel Roller Coaster. A Shuttle Loop style roller coaster can easily be adjusted by changing the launch speed and adding or removing turns. Roller coasters with two stations that act like a transport ride are also very attractive if kept gentle. Beware of space, however, as the park may become overcrowded as you draw closer to your 1,200 guest objective.
In the end, even without gigantic high-intensity roller coasters, you can beat this scenario easily by building a variety of rides. Go Karts, for example, can reach excitement ratings that rival roller coasters. River Rapids, Log Flumes, and River Rides with several good drops can be exciting as well. Even gentle rides can be improved considerably by adding scenery and tunnels, so take some time to design your rides carefully. Building these rides mostly or entirely underground will help you save space, and make these rides more exciting. The fact that low-intensity attractions actually attract more guests than other attractions in this park should make this scenario considerably easier than others following it.