Remember:
The Scenario Guide below is only a suggested strategy for completing this scenario—it may not work for all players.
The General Scenario Guide and Hints and Tips articles may also provide helpful information in completing this scenario.
There are usually multiple strategies to successfully completing a scenario; these can be discussed in the comments below, written down in an additional section of the article or added to an existing subsection.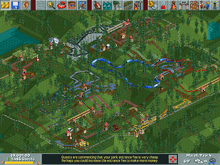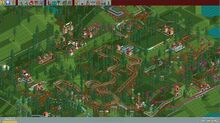 Even if you know what to do, this scenario will not be easy. To get started, build a medium-intensity roller coaster, a Merry-Go-Round, and an Information Kiosk. Set your research funding to maximum and direct your priorities to Shops and Stalls until the Candy Apple Stand and Drinks Stall are researched, then direct your priorities to Roller Coasters and Thrill Rides. Unless you are charging a gate fee and are planning to build evenly throughout the park, disconnect the path to the back area of the park until you have at least 400 guests and need the extra space.
When building roller coasters, choose the type carefully. Certain varieties (e.g. Steel Mini, Virginia Reel, and Steel Wild Mouse) do not need very large slopes to have good excitement ratings provided the rest of the design is adequate. The ability for the Vertical Roller Coaster to tunnel underground using vertical track also helps to overcome the height restriction, although it requires care in use to keep the trains from stalling out as they rise back above the ground. Although you cannot expect rides to be very exciting here, aim for an excitement rating of 4.50 from the Steel Mini Roller Coaster and 5.00 from other roller coaster types.
If you have not yet completed Rainbow Valley from the original pack, consider doing so to prepare yourself for this scenario. You may still struggle with the height restriction, but you will be more prepared to deal with the tree removal and landscape adjustment restrictions you will face here.