Hasbro Interactive was an American video game production and publishing subsidiary of Hasbro, the large game and toy company.
Founded in 1995, Hasbro Interactive created over 160 computer and Playstation 1 games, many based on their already popular board games. In 1999, Hasbro created the wildly popular RollerCoaster Tycoon which garnered approximately $180 Million.
Unfortunately, in 2001, faced with many difficulties, Hasbro sold all video game properties, Atari, and MicroProse, to Infogrames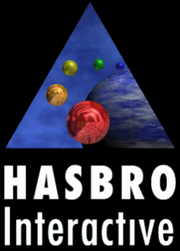 Ad blocker interference detected!
Wikia is a free-to-use site that makes money from advertising. We have a modified experience for viewers using ad blockers

Wikia is not accessible if you've made further modifications. Remove the custom ad blocker rule(s) and the page will load as expected.