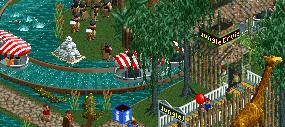 Jungle Cruise Boats is a downloadable Water Ride created by Dan Wolfe/The Amazing Earl. Guests board old-fashioned boats for a trip through the jungles of the world. Each boat holds up to 16 riders. Jungle Cruise scenery is also available to download, but the ride and scenery pack are downloaded seperately. The ride is based off the real ride itself for the RCT Disneyland Project to celebrate Disneyland's 50th Anniversary.
Photo Gallery
Ad blocker interference detected!
Wikia is a free-to-use site that makes money from advertising. We have a modified experience for viewers using ad blockers

Wikia is not accessible if you've made further modifications. Remove the custom ad blocker rule(s) and the page will load as expected.