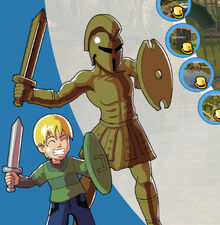 Overview
The Lost City is found!  Legendary Atlantis offers up its treasures from the deep - use these fabulous antiquities wisely and develope a park old Neptune himself would be proud of.
Objectives
Apprentice:
Total monthly ride income: $250.
Minimum park value: $20,000.
Guests in a clean pool complex: 50.
Entrepreneur:
Total monthly ride income: $700.
Minimum park value: $40,000.
Minimum length: 590.55 feet (One water slide).
Tycoon:
Total monthly ride income: $1,050.
Minimum park value: $60,000.
Minimum length: 2001.31 feet (One coaster).
Scenario Guide
Remember:
The Scenario Guide below is only a suggested strategy for completing this scenario—it may not work for all players.
The General Scenario Guide and Hints and Tips articles may also provide helpful information in completing this scenario.
There are usually multiple strategies to successfully completing a scenario; these can be discussed on this article's talk page.
Challenge: 2 Atlantis themed attractions
Just put 2 random stalls near the big Atlantis building at the back of the park and win $5000! You can delete them after.
Challenge: 10 Sci-Fi themed attractions
Same as the last one, just put 10 stalls anywhere near the sci-fi buildings. Prize: $5000
Available Rides
Available Scenery
Researched Rides
Researched Scenery
Other Notes
Ad blocker interference detected!
Wikia is a free-to-use site that makes money from advertising. We have a modified experience for viewers using ad blockers

Wikia is not accessible if you've made further modifications. Remove the custom ad blocker rule(s) and the page will load as expected.