Overview
PC Player is one of three promotional parks for the original RCT along with PC Gaming World and gameplay. The landscape has been edited to form the words PC Player, with a pre-built Steel Twister Roller Coaster going through the words along with an Information Kiosk. Cash at the beginning is $1,000.
Pre-Built Rides
Dschungelbahn (Steel Twister Roller Coaster)
Excitement Rating: 9.39 (Very High)
Intensity Rating: 7.95 (Very High)
Nausea Rating: 4.65 (Medium)
Information Kiosk 1 (Information Kiosk)
Initial Price: $0.60 (Maps); $2.50 (Umbrellas)
Scenario Guide
Remember:
The Scenario Guide below is only a suggested strategy for completing this scenario—it may not work for all players.
The General Scenario Guide and Hints and Tips articles may also provide helpful information in completing this scenario.
There are usually multiple strategies to successfully completing a scenario; these can be discussed in the comments below, written down in an additional section of the article or added to an existing subsection.
At first, do check the Dschungelbahn coaster's excitement rating, and bump said ride's admission fee to said rating, rounded down. It will help you make more money on the long run. Feel free to experiment on additionnal themeing if it bumps the Excitement rating (and so the ride's fee) one dime up.
Feel free to use the umbrella cheat for another quick buck, however make sure you make at least 1 buck from any article you sell (on-ride pictures included). You can also charge 0.10 for the toilets.
From there, do take a loan if you wish, but make sure to repay it as you can, to avoid losing cash in loan interests. Here, every buck counts !
Now, build your tower rides so that they go through the coaster's multiple helixes for easy excitement rating bumps.
Technically, you need no other rollercoaster, if not a cheap money-maker such as the Shuttle Loop or Cobra. Dschungelbahn is more than enough in terms of excitement and guest capacity. Therefore, searching for new roller coasters is useless. Same for themeing, water and transport rides. Uncheck'em. Instead, use your time to build any flat ride you own or research, and make well use of your staff in order to make the park rating hold up, as well as ad campaigns for guest numbers.Remember, however, to create a path network in order to avoid having "too crowded" paths, which are a severe blow to both guest happiness and park rating. You will have to create a path that goes right at the first entrance path turn, goes east from the park entrance, then goes behind the "PC Player" structure and joins up the circle after the Dschungelbahn. build your last rides near this path, and build queues as long as possible (remember waiting times) in order to hold a max amount of people away from polluting the main path layout.
Apart from the low initial cash amount, this scenario shall not be any complicated if you know how to play the game, and how to make money.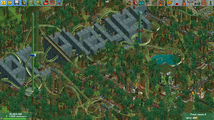 Available Rides
Transport
Gentle
Roller Coasters
Thrill
Water
Shop/Stalls
Researched Rides
Transport
Gentle
Roller Coasters
Thrill
Water
Shop/Stalls
Upgrades
Available Scenery
Researched Scenery
Other Notes
"Dschungel" being the german for "Jungle", the name Dschungelbahn translates into "Jungle Path".
The three promotional scenarios can be downloaded here.