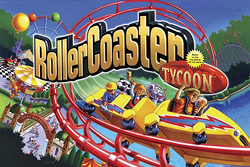 RollerCoaster Tycoon: The Board Game was released in 2002 by Hasbro and Parker. It can be played by 2-4 players, ages 8 and up.
Gameplay
Using the RollerCoaster Tycoon license, the game's goal is to buy attractions on the board and move the guests throughout the park. With each guest attracted to his rides, a player gains guest points. At the end of the game, the player with the most guest points wins.
Links
Ad blocker interference detected!
Wikia is a free-to-use site that makes money from advertising. We have a modified experience for viewers using ad blockers

Wikia is not accessible if you've made further modifications. Remove the custom ad blocker rule(s) and the page will load as expected.