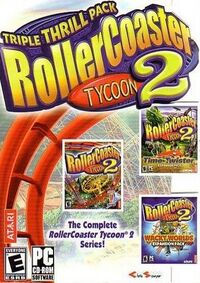 In September 2004, Atari released
RollerCoaster Tycoon 2: Triple Thrill Pack
, which is compilation of the RCT2 Base Game, alongside the
Wacky Worlds
and
Time Twister
expansion packs, all on a single disc.
A Year before hand in August 2003, Atari released the RollerCoaster Tycoon 2 Combo Pack, which was released around the same as when Time Twister hit store shelves. This pack contained the base game and Wacky Worlds, with separate discs for each game.
In Europe, the Combo Pack was known as the
Gold Edition
, and the Triple Thrill Pack was known as the
Deluxe Edition
.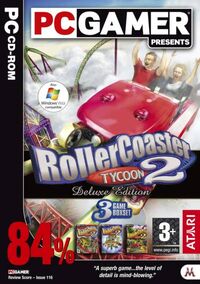 Attractions
Transport Rides
Gentle Rides
Roller Coasters
Thrill Rides
Water Rides
Shop & Stalls
Footpaths
Scenery
Park Entrance
Water
Ad blocker interference detected!
Wikia is a free-to-use site that makes money from advertising. We have a modified experience for viewers using ad blockers

Wikia is not accessible if you've made further modifications. Remove the custom ad blocker rule(s) and the page will load as expected.