RollerCoaster Tycoon 4 Mobile
Talk

2
New Ride/Attraction Now Available
This article is about something that is currently in development. The information may or may not be 100% factual or present in the final product.

RollerCoaster Tycoon 4 Mobile is a game released on 14 April 2014 for iOS, with an Android version released later in the fall.
History
On 11 March 2014, Atari made a tweet using the #RCT4M hashtag. The fanbase did not know what the 'M' was for, but some speculated it could stand for 'mobile'. On 16 March, Atari released a trailer for the app (as of now the video has almost 10,000 dislikes). The following day, Atari responded with a tweet: RollerCoaster Tycoon is back and it's coming to mobile! Rest assured, there is a PC experience in production now for release this year!
At that time, the RollerCoaster Tycoon website was updated to feature the new app.
Criticism
RollerCoaster Tycoon 4 Mobile was criticised by many fans due to the use of microtransactions in addition to Many fans also note missing features, such as ride queues and landscaping purchasing the app itself for $3.99. Other common gripes include the lack of a rotating camera, as well as the lack to make objects transparent.
Videos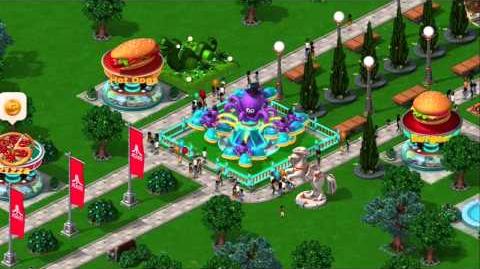 External links