RollerCoaster Tycoon 4 Mobile
Talk

1
593pages on
this wiki
New Ride/Attraction Now Available
This article is about something that is currently in development. The information may or may not be 100% factual or present in the final product.

RollerCoaster Tycoon 4 Mobile is a game released on April 14, 2014 for IOS and Summer 2014 for Android It has been confirmed for iOS and Android.[1]
Announcement history
On March 11th, 2014, Atari made a tweet using #RCT4M. The fanbase did not know what the 'M' was for, but some speculated it could stand for mobile. On March 16th, Atari released a trailer for RollerCoaster Tycoon 4 Mobile. As of April 6th, 2014, the video already received 7,000 dislikes. On March 17th, Atari responded with a tweet: RollerCoaster Tycoon is back and it's coming to mobile! Rest assured, there is a PC experience in production now for release this year!
At that time, the website www.rollercoastertycoon.com was updated to cover the mobile game.
Criticism
RollerCoaster Tycoon 4 Mobile was criticised by many fans due to the use of freemium features (In-app purchasing of coins and tickets, timers etc.) and charging an additional cost of having to buy the game first before the in-app purchases. Many fans also note missing features, such as ride queues and landscaping tools.
Videos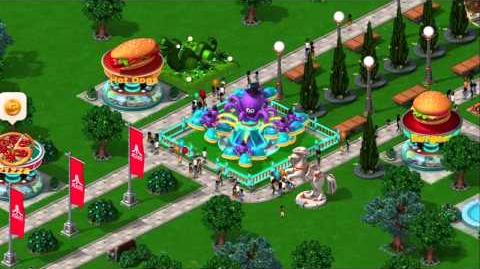 External links