Overview
You are a successful business tycoon on long sabbatical who desires to use this time transforming the city park into Rollercoaster Heaven. Money is no object!
Like it says, there is no money. This park is built inside a redwood grove and the edges have the skyscrapers. You have plenty of space and a few existing gentle rides and Trams. This park will be very challenging to players who don't know how to build really good roller coasters, but people who do should find it significantly easier.
This is the fifth Challenging scenario in Wacky Worlds.
Scenario Guide
The scenario guide can be found here.

Rides
Transport
Gentle
Roller Coasters
Thrill Rides
Water Rides
Shops and Stalls
Scenery
Park Entrance
Water
Other Notes
The Cash Machine is useless in the scenario, as this scenario doesn't use money.
The redwood trees must be right-clicked to remove.
The Trams crash if you don't have mechanics patrolled right next to them.
Completed Parks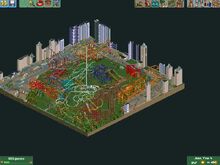 Ad blocker interference detected!
Wikia is a free-to-use site that makes money from advertising. We have a modified experience for viewers using ad blockers

Wikia is not accessible if you've made further modifications. Remove the custom ad blocker rule(s) and the page will load as expected.