Remember:
The Scenario Guide below is only a suggested strategy for completing this scenario—it may not work for all players.
The General Scenario Guide and Hints and Tips articles may also provide helpful information in completing this scenario.
There are usually multiple strategies to successfully completing a scenario; these can be discussed in the comments below, written down in an additional section of the article or added to an existing subsection.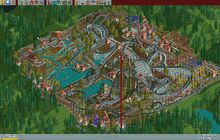 When the game is started, the park is in no condition to be opened right away. The main focus here will be to take care of the problems in the park. You have the option to clean up and rebuild the park, or demolish everything and start from scratch.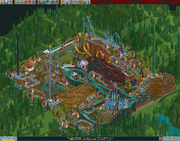 If you plan on rebuilding the current park, you'll have to hire a few mechanics and handymen as the flat rides start out broken and the pathways needs major cleanup and fixing. For the incomplete tracked rides, with good building skills, you can make them a favorite for the guests.
Start by fixing a part of the park and lock off the rest, so you don't have to fix the whole mess at once. This way, you can build a small park and have guests with their money coming in while you fix the rest. Be sure to check park entrance and ride fees before opening.
Note that the guests are quite poor ($60 in average), so don't go overboard with your pricing, especially the entrance fee, or they will leave soon.