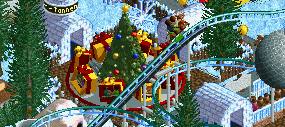 Tannenbaum is a downloadable Gentle Ride made by Dan Wolfe/The Amazing Earl. Guests literally rock around a Christmas Tree. This ride makes a pretty addition to holiday themed parks. It holds up to 16 riders. This ride was made my modifying the Merry-Go-Round ride. The word "Tannenbaum" is German for "Christmas Tree".
Ad blocker interference detected!
Wikia is a free-to-use site that makes money from advertising. We have a modified experience for viewers using ad blockers

Wikia is not accessible if you've made further modifications. Remove the custom ad blocker rule(s) and the page will load as expected.