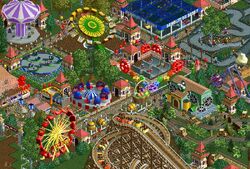 The Amazing Earl is a character created, trademarked and portrayed by comedian Dan Wolfe. He is known for creating a series of popular custom scenery objects and rides for RollerCoaster Tycoon 2, of which some were co-created with other custom object creators such as Buggy, as well as being one of the contributors of the UCES. In addition to custom objects, The Amazing Earl also wrote a text tutorial on creating custom rides for RollerCoaster Tycoon 2.
Rides
List of Real Rides
Alice in Wonderland Cars
Broomstick Coaster
Cave Man Cars
Haunted Mansion Doombuggies
Mad Hatter's Teacups*
Matterhorn Bobsled Coaster
"Peter Pan" Flying Ships
"Pirates of the Caribbean" Boats
Spinning Cups
Splash Mountain Log Flume
 *Indicates that the ride is in RCT3.
List of SIM Rides
(Note: These are not real rides, just animated scenery. Guests can't actually ride these.)
Super Slide
The Bouncer
Chute Drop
The Whipper
Scenery
List of Static Scenery
Camera
35mm Film (Upright)
35mm Film (Laying Flat)
Film Reel (Upright)
Film Reel (Laying Flat)
Gravestone (Large)
Gravestone (Small)
Beer Mug
Generic Glass Ghost
Easter Basket
Easter Egg (Upright)
Easter Egg (Laying Flat)
Dragon
Goat
List of Animated Scenery
Fireworks
Hanged Guest
Octopus Set
Circling Shark
Mirrored Disco Ball
Abominable Snowman (Yeti)
List of Scenery Tabs
Alice in Wonderland Group (19 Objects)
Haunted Mansion Group (28 Objects)
Jungle Cruise Group (28 Objects)
Pirates of the Caribbean Group (26 objects)
External Links
Ad blocker interference detected!
Wikia is a free-to-use site that makes money from advertising. We have a modified experience for viewers using ad blockers

Wikia is not accessible if you've made further modifications. Remove the custom ad blocker rule(s) and the page will load as expected.