Overview
Two large hunks of rock stick out of the sand, upon which the beginnings of a theme park are constructed.
A sequel to the "Thunder Rock" scenario from the original RCT, this scenario adds a second large "rock" behind the first. At the start, there is no path that connects the two, but a Vertical Roller Coaster takes guests to the other side. In short, this scenario requires more guests in less time, but you have about twice as much space as before.
This scenario has a higher park rating difficulty level, so your guests are harder to please.
Pre-Built Rides
Thunder Rock Chairlift (Chairlift)
Excitement Rating: 2.41 (Low)
Intensity Rating: 0.55 (Low)
Nausea Rating: 0.51 (Low)
Initial Pricing: $1.00
Roller Coaster 1 (Vertical Roller Coaster)
Excitement Rating: 7.18 (High)
Intensity Rating: 6.52 (High)
Nausea Rating: 2.87 (Medium)
Initial Pricing: $3.00
Scenario Guide
Remember:
The Scenario Guide below is only a suggested strategy for completing this scenario—it may not work for all players.
The General Scenario Guide and Hints and Tips articles may also provide helpful information in completing this scenario.
There are usually multiple strategies to successfully completing a scenario; these can be discussed in the comments below, written down in an additional section of the article or added to an existing subsection.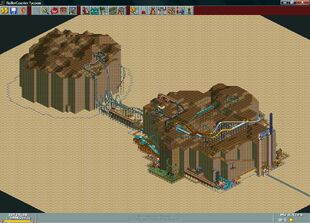 The scenario guide can be viewed here.
Available rides
Transport
Gentle
Roller Coasters
Thrill Rides
Water Rides
Shop/Stalls
Researched Rides
Transport Rides
Gentle Rides
Roller Coasters
Water Rides
Thrill Rides
Shops/Stalls
Available Scenery
Researched Scenery
Other Notes
Unlike Big Pier 2, this is a reboot and not a sequel, since another rock has been added.