Remember:
The Scenario Guide below is only a suggested strategy for completing this scenario—it may not work for all players.
The General Scenario Guide and Hints and Tips articles may also provide helpful information in completing this scenario.
There are usually multiple strategies to successfully completing a scenario; these can be discussed in the comments below, written down in an additional section of the article or added to an existing subsection.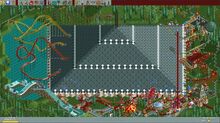 Since this scenario is extremely rainy, you should start off the scenario by building an Information Kiosk. Not only will it lower the chances of guests getting lost, it will also help keep them happy in the rain
(Tip: You can charge $20.00 for umbrellas, and the guests do not care. Use this tip if you are short on money).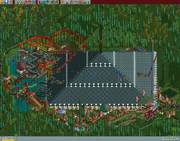 Once all that is done, build mainly indoor and underground rides, these rides will attract guests during the rain. Try to make
indoor rides
(like the Merry-Go-Round, Monorail, Car Rides with pickup truck cars, etc.) outdoors, filling the space outside of the pyramid.
To build tracked rides completely inside the pyramid, start building outside, tunnel in the pyramid and then remove the outside part. A tracked ride needs at least 40% of the track underground to count as indoor ride. Do not forget to build stalls and bathrooms for the guests.