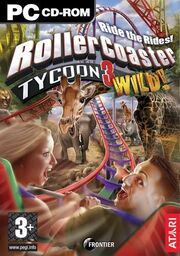 RollerCoaster Tycoon 3: Wild! is the second expansion pack for RollerCoaster Tycoon 3 and is currently the final iteration of the game released for the PC. It includes new attractions and themes, with addition being the ability to create zoos and safari rides in a park. New scenery items include African flora and giant insects and dinosaurs.
Just like with the Soaked! expansion, Wild introduced new game-play elements and proper new rides.
Scenarios
Junior Rides
Gentle rides
System requirements
Original RollerCoaster Tycoon 3
Operating system: Windows 98/Me/2000/XP/Vista/7/8/10; Mac OS X
Processor: Pentium III 733 MHz or higher
Memory: 128 MB RAM; 256 MB for XP
Hard Disk Space: 600 MB free
CD-ROM Drive: 4X CD-ROM or faster
Video: Any ATI Radeon or GeForce 2 with 32MB or higher; or other video card with 32MB and hardware T&L
Sound: Windows 98/Me/2000/XP or Mac OS X compatible 16-bit sound card
DirectX: version 9.0 (included) or newer
See also
Ad blocker interference detected!
Wikia is a free-to-use site that makes money from advertising. We have a modified experience for viewers using ad blockers

Wikia is not accessible if you've made further modifications. Remove the custom ad blocker rule(s) and the page will load as expected.