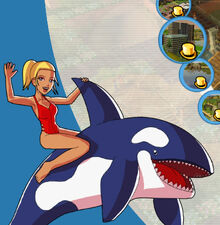 Overview
This thriving water-park is already a top catch, but your star performers' fishy appetites are eating you out of house and home! Float some fresh ideas quick to help you reverse the cashflow tide...
Objective
Apprentice
Total monthly ride income: $450.
VIP Clint Bushton.  (Litter tollerance: Low.  Arrives April 3.)
Entrepreneur
Minimum excitment: 3.5 (Two water slides).
Total monthly ride income: $500.
Repay Loan.
Tycoon
Minimum excitment: 5 (Two coasters).
Minimum park value: $120,000.
Scenario Guide
Remember:
The Scenario Guide below is only a suggested strategy for completing this scenario—it may not work for all players.
The General Scenario Guide and Hints and Tips articles may also provide helpful information in completing this scenario.
There are usually multiple strategies to successfully completing a scenario; these can be discussed on this article's talk page.
Available Rides
Researched Rides
Available Scenery
Researched Scenery
Trivia
World of the Sea is most likely derived from SeaWorld
Other Notes
Ad blocker interference detected!
Wikia is a free-to-use site that makes money from advertising. We have a modified experience for viewers using ad blockers

Wikia is not accessible if you've made further modifications. Remove the custom ad blocker rule(s) and the page will load as expected.